holistic face & body studio
Welcome to Dream Faces offering the most innovative and effective treatments in non-invasive procedures, providing safe and natural treatments and organic DNA skin care products to enhance your beauty. Remember–Age is just a number. My passion and purpose is to help my clients achieve their AGELESS BEAUTY.
Client Testimonials
"I started going to Ginny for micro-current for faces. She is so easygoing and very knowledgeable about micro-current. My face responded immediately to the treatments. I love it! I started the program of a package of 10. I went twice a week and my face never looked better. Now I am on the once-a-month maintenance and it is fantastic! Because my face responded so well to the facial treatments, I wanted to try the body treatments also. Ginny works on my stomach and upper arm areas. I had surgery over a year ago and hadn't been able to exercise much. Again, the areas responded immediately. I bought the package of 20 the first time and now I'm on the second package. I see the results every treatment. I would highly recommend Dream Faces to everyone!!!!"
-Tracy P., Actress (54yo)
"Outer health is as important to me as inner health and Ginny has helped me achieve my goals using healthy skin care products and treatments as I age. I look better now than I did 10 years ago. Ginny is knowledgeable and continually searching for the best she can provide her clients in the skin care industry. I highly recommend her experience, products and services."
-Pamela Sholty
"Every time I have a treatment at Dream faces I feel like a Movie Star! Ginny takes such special care to make sure the environment is soothing and her products and services are the best of the best. I have been receiving facials and using her DNA Organic skin care line for years and just recently completed a series of her red light treatments. I noticed results instantly and am excited to experience the ongoing effects that it will have on my skin cells."
-Rima
"Ginny Burke's Dream Faces is so appropriately named. With the package of treatments that Ginny created for my skin and body, looking in the mirror and seeing more firm youthful skin and body has been my reward. It is fun and time well spent especially for the results achieved."
-CM, Clovis
"I love, love, love coming here. Ginny offers the latest top notch services and is wonderful at executing them. The LED and micro current are great. She carries my favorite skin care line from the DNA Health Institute. I have never been able to use any other product with regularity without an adverse reaction of some sort. My skin loves DNA and is much healthier because of it. Thank you, Ginny, for being ahead of the game!"
-Oja Fin
Make the Best of Every Gift Opportunity
Buying a gift certificate is really convenient, both for you as a buyer and the recipient. With so many healthy benefits, a Dream Faces gift certificate is a great idea for any occasion. Dream Faces gift certificates are treated as cash, and can be used towards any service or product purchased at both Dream Faces locations.
To purchase a gift certificate, visit us or call 559-760-2415 and we can mail one out.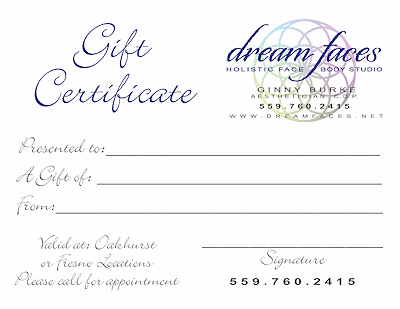 "The mind is everything. What you think, you become." —Buddha